Wycieczka do Jerozolimy z Ejlatu
Wycieczka do Jerozolimy z Ejlatu
Wycieczka do Jerozolimy z Ejlatu Opis
Mantis Tours jest renomowanym lokalnym touroperatorem w Izraelu, który specjalizuje się w Wycieczki po Jerozolimie. W rzeczywistości jesteśmy jedynym touroperatorem w Ejlacie, który organizuje wycieczki do Jerozolimy z Ejlatu z certyfikatem doskonałości TripAdvisor, ze względu na bardzo dobre opinie naszych klientów. Nasza jednodniowa wycieczka do Jerozolimy z Ejlatu wyrusza w poniedziałki i piątki. Czasami, z powodu dużego popytu, otwieramy wycieczkę również w inne dni. Skontaktuj się z nami, aby sprawdzić, czy dostępna jest inna data! Ta wycieczka jest bardzo popularna, dlatego zaleca się wcześniejszą rezerwację jednodniowej wycieczki do Jerozolimy z Ejlatu.
Odbierzemy Cię z miejsca zakwaterowania w Ejlacie (odbierzemy ze wszystkich hoteli w Ejlacie) o 05:00 w nocy i zabierzemy do Jerozolimy z wycieczki po Ejlacie.
Nasze autobusy są nowe, mają klimatyzację i Wi-Fi. Starannie dobieramy naszych kierowców i mamy naprawdę najlepszych polskojęzycznych przewodników. Naszą misją jest dostarczenie niezapomnianej wycieczki.
Po około dwóch godzinach jazdy zatrzymamy się na śniadaniu na stacji benzynowej (możesz zabrać ze sobą pudełko śniadaniowe z hotelu) i płyniemy do Morza Martwego około półtorej godziny, aby unosić się na wodzie z czarnym błotem bogaty w minerały, następnie kontynuuj niesamowitą wycieczkę po Jerozolimie. Przejedziemy do miejsca chrztu w rzece Jordan, gdzie możemy zanurzyć się w wodzie i kontynuować podróż do Betlejem, aby odwiedzić Kościół Narodzenia Pańskiego i zjeść lunch. Następnie odwiedzimy Stare Miasto w Jerozolimie podczas naszej wycieczki po Jerozolimie. Przejdziemy Via Dolorosa, odwiedzimy Kościół Grobu Świętego i Ścianę Płaczu. Po naszej wycieczce do Jerozolimy z Ejlatu wrócimy do Ejlatu zmęczeni po długim dniu, ale bardzo szczęśliwi.
* Możliwe, że odwiedzimy Morze Martwe po trasie do Jerozolimy, zgodnie z wymogami czasowymi.
Tutaj kończy się nasza wycieczka do Jerozolimy z Ejlatu, do następnego razu… 🙂
Wycieczka do Jerozolimy z Ejlatu Recenzje na TripAdvisor
Wycieczka do Jerozolimy z Ejlatu Ważna Informacja
Wycieczka obejmuje
Odbiór z hotelu i zwrot do hotelu.
Wszystkie przelewy.
Przewodnik wycieczki.
Obiad w lokalnej restauracji.
Darmowa pamiątka.
Wycieczka wyklucza
Porady.
Wydatki osobiste.
Ubezpieczenie osobiste.
Notatki
Możesz zapłacić za wycieczkę według USD, NIS i Euro.
W przypadku USD akceptujemy tylko 50 i 100 rachunków.
Cena wycieczki dotyczy gotówki w USD. W przypadku karty kredytowej (obciążonej w lokalnej walucie) prowizja wynosi 5,5%.
Musisz przynieść ważny paszport w dniu wycieczki.
Upewnij się, że twój paszport jest w dobrym stanie. Jeśli paszport jest rozdarty lub uszkodzony, możesz nie być w stanie wjechać do Betlejem.
Nie zapomnij zabrać ze sobą wygodnych butów do chodzenia, czapki, okularów przeciwsłonecznych, ochrony przeciwsłonecznej, wody mineralnej, lekkich ubrań w lecie i ciepłych ubrań w zimie.
Zabierz ze sobą strój kąpielowy i ręcznik do kąpieli w Morzu Martwym. Kobiety muszą nosić skromne ubrania i nakrycia włosów, aby odwiedzić święte miejsca w Jerozolimie i Betlejem.
Obiad się spóźni, dlatego zaleca się przynieść pudełko śniadaniowe (wydawane za darmo w większości hoteli).
Zasady anulowania rezerwacji
Możesz anulować wycieczkę z 31-dniowym wyprzedzeniem bez opłat za anulowanie.
Za 15-30 dni z góry obowiązuje 10% opłaty za anulowanie.
Za 8-14 dni z góry obowiązuje opłata w wysokości 25%.
Za 2-7 dni wcześniej obowiązuje 50% opłaty za anulowanie.
Naliczymy Ci pełną cenę za anulowanie mniej niż 48 godzin od godziny wyjazdu lub nie pojawienia się.
Informacja
👨 Cena dla osoby dorosłej: $120
🧒 Cena za dziecko: $100
👶 Cena za niemowlę: $40
📌 Lokalizacja: Jerozolima, Betlejem i Morze Martwe, Izrael
⌛ Czas trwania wycieczki: 12 godzin
⏰ Czas odbioru: 05:00
👫 Minimalna rezerwacja: 1 osoba
Z jakiegoś powodu jesteśmy ulubionym touroperatorem w Jerozolimie! ❤️
Nie porównuj 🍏 jabłka z 🍐 gruszki! Nasze wycieczki po Jerozolimie są najlepszą dostępną wartością, opartą na naszych świetnych cenach, bez utraty jakości.
🌎 Dostępne dni:
| | | | | | | | |
| --- | --- | --- | --- | --- | --- | --- | --- |
| | Sun | Mon | Tue | Wed | Thu | Fri | Sat |
| Polskie | | × | | | | × | |
Czy masz pytania?
📧 Nasi eksperci wsparcia są tutaj, aby odpowiedzieć na każde pytanie. Postaramy się jak najlepiej odpowiedzieć w ciągu 4 godzin roboczych. To nasze zobowiązanie wobec Ciebie! 🙂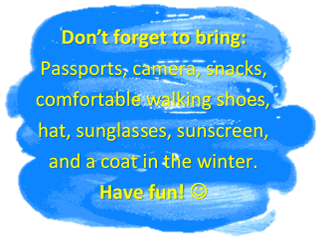 Wycieczka do Jerozolimy z Ejlatu Galeria Zdjęć
Unite Gallery Error: No gallery items found
Obserwuj nas na Instagramie

This error message is only visible to WordPress admins
Error: No posts found.
Make sure this account has posts available on instagram.com.